Pin It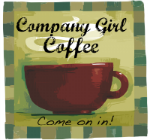 This is my first post for this Friday coffee thing since I just came to
Home Sanctuary
this week. For any of my regular family readers, feel free to check it out. I mentioned it a couple of posts ago.
I may not have done all of assignments this week as they were set out (I'm a rebel, what can I say), but it's mostly because I feel out of the ordinary and unable to complete them as assigned. I just started my new job on Monday and I've been on a day schedule. I went from being up all night (and even on nights I didn't work I was up until 3 am usually) to being up at 5:20 am and falling asleep on the couch at 8:00 pm. I told my husband last night we're just going to have to eat earlier, do dessert earlier, just do everything earlier. Hopefully, I'll get more used to this and won't be so exhausted, as I was this week.
The reason I feel I am exempt from completing my housekeeping schedule is because I am a nurse. I work 3 days/nights each week. I am only on a day schedule until my orientation is up and then I'll return to nights. If there are any other Company Nurses out there, please share your housekeeping wisdom with me. (For those of you that don't know, when one works nights they kind of lose two days. You have to sleep the day before you go in, and you sleep the day after. Then you're up late, but no one else in your house is, so you can't exactly go about your household chores in the manner one would during the day.) *Editor's note: I love being a nurse and I am not upset about this, I just want to explain myself.*
The best thing about being on days this week is that I got to cook. I made chicken fettucine alfredo, balsamic glaze pork tenderloin and mashed potatoes, and ham and Swiss turnovers and I have whole list of new things I want to try over the weekend and next week.