Pin It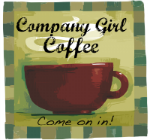 This is our second snowfall here in the 6 months we have lived in the "deep" south. It's kinda blowing my mind. I noticed it snowing here about 12:30 or so and it took hardly any time for it to completely blanket the courtyard. I've seen a couple babies toddling around in it with parents taking pictures, but not as many as the first time. It's a pity I can't enhance the experience with Christmas music.
While it is beautiful, I'm concerned our plans will be altered the way they were last time. We were planning on going out for Brice's birthday on the last Friday that it snowed, but weren't able to get out of the parking garage. Tonight we were planning on going out as well and with Brice's brother who should be arriving this afternoon. Hopefully he is having a safe drive. I'm also hoping that I have something to make for dinner if we don't get out since my grocery shopping is supposed to happen Monday and tonight's dinner out was planned last week. I'm sure we'll work it out though and we're looking forward to our very first houseguest!
As far as Small Things this week, I did really well. Somehow Rachel Anne and I were in perfect sync--the things I was planning on working on for the day/week were just what she suggested. Not sure if I'll get that lucky next week, but we'll see.
Some of you saw my pork tenderloin recipe from last week with the balsamic. Pork tenderloin is something I had never made before I got married, but have found to be very dependable for making an impressive meal. I have made it a few different ways, but have always defaulted to the balsamic as my favorite version. However, on Wednesday I made a version that turned out so great it's hard to say which is the winner now. It's not really an exact recipe, but I'll just call it Garlic and Rosemary Pork Tenderloin with gravy (this gravy really made it). Anyway, the point here is that I recommend branching out with the meats you generally use and also branching out into meatless meals (if you have a husband/kids satisfied by them). As Lent approaches, I'm getting excited about trying meatless meals and hoping to casually slide them in more regularly after Lent is over.
Any suggestions from regularly meatless families?