Pin It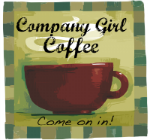 Well, this won't be a long one because I am short on time this morning. (But keep reading if you feel the need for more!) I briefly considered writing ahead of time yesterday afternoon to be ready for this morning, but I can't remember what happened.
I have to hurry and get some things done this morning because at noon I am going to trek over to my husband's campus to have lunch with him. For some reason this is something we haven't tried. I could use the walk and I'll get to see him hard at work.
Things are going pretty well for us lately with work and school, but I do have to work this weekend, which is always a little sad. Not much new around here--just watching a lot of Olympics. I am quite satisfied with the ladies' figure skating results (as though the judges would call and ask if I was). The gold was very much deserved and I am glad Joannie Rochette won something. (By the way,
try
to read her name with a bit of French flair and not like the American announcers who repeatedly butchered her name. Sorry, I'm French Canadian.)
I certainly love my title today and I miss the days where watching that 2 hour line-up with the same name was the highlight of my week. A particular show on it, Boy Meets World, was my show. I joined a Facebook group saying that I learned everything I ever needed to know from it, and that's hardly a joke for me. This was actually the show my brother based our wedding homily on. I wish there were such good shows still on for kids that age (because I would watch them). Any other TGIF lovers out there?