Pin It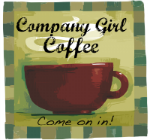 I know it really has been a long time since I've done coffee and a loooong time since I posted any updates on what we've been up to this summer. I shouldn't make any excuses since I'm not working, but I have been traveling a lot.
Since living in Delaware this summer I've had three trips to NY to visit my family. I spent all of last week in NC for my husband's uncle's funeral and then a wedding over the weekend. I've also been doing a lot of reading (
see book review/essay below on Nickel and Dimed if you have time
--I'd really love your thoughts) and I'll be posting some more reviews of books very soon. I'm also starting to work on a Christening quilt for our new niece or nephew (mom is Ashley from
sidetracked
) due in December. This is my first attempt at quilting in a serious way (insert nervous grin here).
More thorough chronicling of our summer adventures to come soon for the family readers who may enjoy, along with those book reviews. Can't post any quilting pictures though--it's a surprise!