Pin It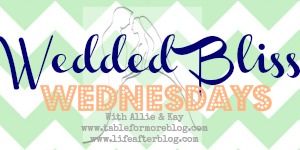 It's time for another Wedded Bliss Wednesday link-up post! We're getting to the most wonderful time of the year and talking about gifts this week. See previous weeks' posts here and here.
What is the best gift to give your husband?
Something fun to do. He loves going somewhere or doing something more than anything else. It's hard to come up with something to get him--I think a lot of men are like this. Anything he really would like is usually unrealistically out of our price range.

What is a meaningful gift that you can give that does not cost money?
He said cookies. Then a hug :-) I'd probably agree that even though technically a home-cooked meal or treat does cost something, we have to eat anyway, so that is probably the best gift.

What is the best gift you have given to him?
When I asked, he turned to me, put on his sappiest face and said, "Your love." :-) I got him an iPod several years ago that he usually answers as his best gift. He really appreciates when I find clothes for him that he likes since shopping is a bit of a challenge. I bought him a scarf last week that he already loves after a very cold and snowy trip to Austria!
What is the best gift he has given to you?
That would probably be the year he proposed :-) He didn't do it at Christmas, but we both felt that my ring and wedding ring would be fine for my presents. It wasn't so much the rings as it was the surprise (I
love
being surprised) and he was quite proud of himself for orchestrating the whole event so smoothly.

What are you giving this holiday?
I'm nervous to answer this publicly, so I told him last night he absolutely could not visit the blog and tomorrow I am going to have to pull this answer, but...
This information has been removed for safety.
We're not doing too much this year since we have treated ourselves to a lot of traveling in Europe and it will be time to get back to reality!
Extra credit tip:
We've had a lot of Christmases and birthdays together and with my birthday being 2 days after Christmas and his being just 13 days after that, it's been hard to remember who got who what and when. So in order to preserve those memories I made a table of Christmas gifts over the years with his listed on one column and mine on the other, a table of birthday gifts, and a table of anniversary gifts (not as many of those yet!). Even still, I have some blank spots since I didn't start this until about 5 years ago. We're celebrating our 11th Christmas/birthday season together this year and I'm hoping to be better about keeping track so that 50 years from now, I'll be able to remember it all!